PhD student Jun Tong delivers Scholar's Address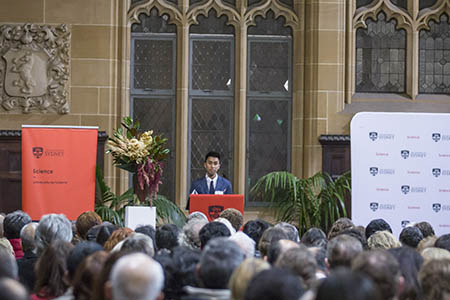 MEEP PhD candidate Jun Tong delivered the Scholar's Address at the recent Faculty of Science Awards ceremony at the University of Sydney. Jun's address, delivered to an audience of high-achieving students, their parents, distinguished alumni, and staff, concerned the importance of scientific research and scholarship.
The Faculty of Science Awards ceremony is held annually, with the purpose of recognising the achievements of outstanding undergraduates, postgraduates, alumni, and teaching staff. This year, Jun received a Postgraduate Research Prize for Outstanding Academic Achievement.