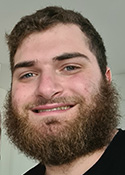 Younis is an Honours student under the supervision of Simon Ho and Anthony Gill (Chau Chak Wing Museum). He is working on a taxonomic revision of the Eastern Wirrah Acanthistius ocellatus, and potentially redescribing the Orange-lined Wirrah Acanthistius paxtoni.
The Eastern Wirrah – nicknamed 'Old Boot' due to its poor table quality – inhabits shallow to deep rocky reefs along the East Coast and is commonly encountered by anglers and divers. The Orange-lined Wirrah is a species that is known to exist from only two specimens, both collected and described in 1982.
Using morphological (skeletal features, counts of fin rays, scales, and other body features and measurements) and molecular evidence, Younis aims to investigate the taxonomy of the two species. By doing so, we may understand why the Eastern Wirrah can exhibit different skeletal morphologies and why the Orange-lined Wirrah has been missing in action for the past 40 years.
Community engagement
Younis has a social media presence on Instagram (@ym_fishing), where he actively posts all things fish – either regarding his research or favourite hobby, fishing.

(L) Eastern Wirrah, Acanthistius ocellatus. Photo by John Turnbull. (R) Orange-lined Wirrah, Acanthistius paxtoni. Photo by Barry Hutchins.