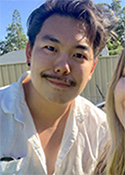 Kai is a Chadwick Biodiversity Fellow at the Australian Museum and a Research Affiliate at the University of Sydney. He recently completed his PhD under the supervision of Simon Ho, Nate Lo, Anthony Gill, and Joey DiBattista (Australian Museum, Sydney). He is interested in the taxonomy, systematics, and evolution of coral reef fishes, with a focus on wrasses. Kai is active in the field of taxonomy and has described over a dozen new species of coral reef fishes, with several appearing on the covers of systematics journals.
For further information, please visit Kai's personal website.
A list of Kai's publications can be found on Google Scholar.
---
Awards and honours
Chadwick Biodiversity Fellowship, Australian Museum, 2022
Australian Museum Research Institute Postgraduate Fellowship, 2019
Best macro photograph and best overall photograph, Australian Coral Reef Society, 2019
Travel award, Genetics Society of AustralAsia, 2018

University of Sydney
Postgraduate Research Support Scheme award, 2019
Science Centenary Fund Scholarship, 2019
Academic Merit Prize, 2019
Research Training Program Stipend Scholarship (International), 2019
John H Elliott Memorial Prize for Best Thesis in Animal Biology, 2018
Dean's List of Excellence in Academic Performance, 2018
---
Media coverage and community engagement
Kai has a strong social media presence on both Twitter (@FishGuyKai) and Instagram (@kaithefishguy), where he actively engages with the community on new scientific discoveries, academia, and science communication.
Why some tropical fish are gettin' squiggly with it. New York Times, 22 August 2020
Angels in disguise: Angelfishes hybridize more than any other coral reef fishes. Forbes, 22 August 2020
A fish called Wakanda: New purple fish honors 'Black Panther'. CNN, 11 July 2019
A fish called Wakanda. Marvel, 16 July 2019
Scientists identify stunning new tropical reef fish that shimmers like an opal. Forbes, 28 June 2019
Living the wildlife with @FishGuyKai. The Wildlife Host, 1 September 2019
Reef encounters: Yi-Kai Tea. Horniman Museum and Gardens, London, 25 January 2018
---