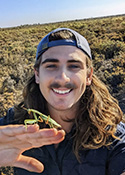 Joseph started his PhD candidature in 2022 under the supervision of Professor Nathan Lo, Professor Simon Ho, and Associate Professor Jane Melville (Museums Victoria). His project is focused on the phylogenomics of the Australian Peacock Spiders and their relatives. He is broadly interested in invertebrate systematics, evolution, behaviour, and conservation.
Prior to joining the MEEP Lab, Joseph conducted his Honours research at Murdoch University on the molecular phylogenetics and taxonomy of the Australian Huntsman Spiders. He has a background in invertebrate systematics actively publishes research on the taxonomy of Australian spiders.
A list of Joseph's publications can be found on Google Scholar.
---
Grants and awards
Joyce W. Vickery Fund, Linnean Society of NSW, 2022 – Phylogenomics of the Australian Peacock Spiders and their relatives
Bush Blitz Taxonomic Research Funding, Australian Biological Resource Study, 2021 – Systematics of the Brushed Jumping Spiders
NERC Environmental Omics Facility, NEOF1324, 2021 – Genomics of peacock spiders (in collaboration with Professor Joana Meier and Jonah Walker, University of Cambridge)
Harry Butler Institute Honours Scholarship, Murdoch University, 2020 – Molecular phylogenetics and systematics of the Australian Huntsman Spiders
---
Media coverage
Joseph is passionate about community engagement and science communication and is active on both Twitter and Instagram (arachno_joe).