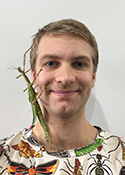 Braxton started his PhD in 2020 after completing a Master of Research at Macquarie University in 2020. Braxton studies the evolution, taxonomy, morphometrics, and behaviour of stick and leaf insects (Phasmatodea). He is working with Nathan Lo and Simon Ho to investigate the different dispersal mechanisms that phasmids use throughout the world.
Braxton's Master's degree looked at the peppermint stick insects from the Daintree Rainforest (Queensland) and investigated their chemical defence behaviour.
A list of Braxton's publications can be found on Google Scholar.
---
Awards and honours
Phil Carne Prize, Australian Entomology Society, 2020
---
Media coverage
Braxton can be found on Twitter (@StickmanBraxton) and articles describing his research can be found below.