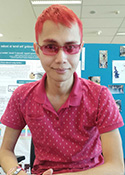 Antonio L. Rayos, Jr (Tony) commenced his PhD in 2022 under the supervision of Simon Ho, Nathan Lo, and Matthew Renner (Royal Botanic Garden, Sydney). He has been an assistant professor at the University of the Philippines, the national university of his country, since 2014. He finished a BS Biology major in Systematics (cum laude) and MS Botany at the University of the Philippines both in 2011 and 2014, respectively. He has presented a number of papers in academic conferences and published scientific articles about plant anatomy and systematics.
Tony is working on the phylogenomics of Lepidoziaceae, one of the most diverse families of liverworts, for his PhD project. He hopes to return to his university with newfound expertise.
A list of Tony's publications can be found on Google Scholar and on ResearchGate.